At least, not for us. We are heading down to Kansas City next week to celebrate with our families, since Tyler couldn't get time off over any of the three holidays this year: Thanksgiving, Christmas and New Year's. That's the way it goes in the hospitality industry.
We had a nice, quiet Christmas yesterday - curiously, they gave him yesterday off (of course, we didn't find out about it til 2 days prior, but I'll take what I can get)! We made pancakes in the morning, opened presents and stockings, and spent the rest of the day eating food, drinking beer, and watching DVDs. Works for me!
We also had a great Christmas Eve with our friends & landlords who invited us upstairs for a pizza party. Tyler got off work in time to join us for board games and present-opening, and we managed to squeeze in the traditional Christmas Eve Ritter Family Stocking Shopping that evening!
There are only two projects I can share with you so far - for Lauren, I knit a monster using my handspun (
Harold the Houseplant Monster
from Rebecca Danger's
Big Book of Monsters
):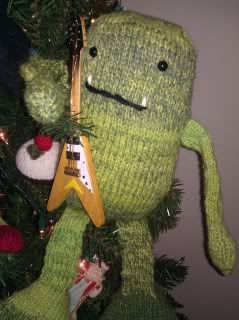 For Tyler, I knit this awesome Pac-Man hat with leftover yarn from his sweater (free pattern available
here
):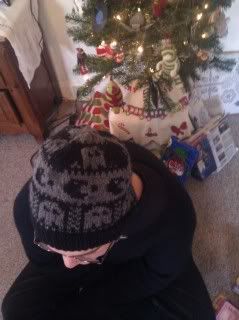 I hope all of you had a great holiday, whatever you celebrate! Here's hoping 2012 is kinder to us all.
Cheers!