Who?
I think January will be a quiet month for me, blog-wise, because it's certainly a crazy month in terms of everything else! We just got back from a short trip down to Kansas City to celebrate Fake Christmas with our families - we always take Amtrak down there and I used my 7 hours both ways effectively - I finished my last xmas gift (an owl), started and finished a scarf for Tyler's grandma, and re-started the
Botanical Cowl
, this time with much more success (bonus: I'm halfway done!). My dad and mother-in-law both liked their monsters, and even though my
grandmother's socks
turned out larger than expected and proved difficult to photograph because of their so-dark-they-look-black green color, I think they worked out just fine. The bath
scrubbies
were an unexpected hit, and the finger puppets turned out well, too! Somehow, it all came together - but don't ask me how, because I
really
don't know.
Back to what makes this month crazy - though we just arrived back in Chicago yesterday, we leave this coming Thursday for Florida. Anyone who knows Tyler or myself fairly well knows that we aren't exactly warm weather people, and we're definitely not the type to head to Florida in the wintertime (or any time of year, for that matter). However, it's his grandmother's 90th birthday and the entire family is heading to Florida to celebrate. The last time we saw his grandma was at our wedding in 2005 (she quit traveling shortly thereafter). So we're looking forward to this trip and very glad to have the opportunity to celebrate this milestone with the entire family.
We get back in town the following Monday. Four days later, I fly to Phoenix for
TNNA
. Should I even bother to unpack?!
As you can imagine, I'm having some major panic attacks - how am I going to get everything done? Normal work, preparation for the show (at least my new business cards have already arrived, hooray!), maintaining a degree of sanity? To be honest, I have no idea - but if this blog gets real quiet, you'll know why.
I have made a Plan similar to the one I made a few weeks back for all of my last-minute xmas knitting. I think it can be done! To my Chicago friends, I'll be seeing you in February, because leaving the house means sacrificing productivity. To my internet friends, I'll try to check in from time to time this month...expect mega-updates, new patterns, and who knows what else in February!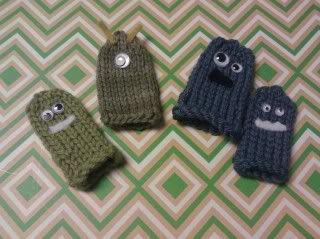 Silly Finger Puppets