Instagrammed: Beulah Cardi
If it seems like my blog is a little less active than usual, it's because I'm back in the submarine (the term Tyler and I use whenever we're working a ton and not coming up for much air).
TNNA
is just around the corner and there is much to do between now and then! Besides that, I am also trying to give myself some time off before things get all crazy busy again. In a nutshell, that means that I am knitting faster than I can blog about it.
The biggest knitting accomplishment of the past month would definitely be finishing
my Beulah Cardigan
. It's been a while since I've done a skinny-yarn sweater, and this one was actually pretty quick to knit (relatively speaking). What always takes me the longest is getting enough chutzpah to seam and sew on the buttons. In this particular scenario, those final details took several weeks for me to complete. Unfortunately, that's quite standard for me.
The pattern is Mercedes Tarasovitch-Clark's
Beulah Cardigan
from the Spring 2012 Knitscene. I think this is the first sweater I've made in a long time that fits absolutely perfectly! The pattern calls for Kitchen Sink Dyeworks Seacell Merino, which is (regrettably) discontinued, so I subbed in The Wool Dispensary
Deadly Stimulant
in Tightrope, which I bought from
Doodlebug Yarn
. My gauge swatch ended up being a little smaller than specified, but I didn't want to go up a needle size - #6 needles are probably the largest size I'd dare to use for a fingering-weight sweater. So I did a little math and determined that if I used the numbers for the next size up, everything should work out fine.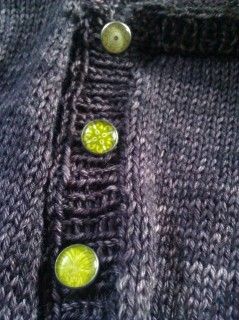 This is usually where I run into trouble, but surprisingly my math held true and I have a gorgeous sweater that fits me just the way I like! As you can see, I skipped the embroidery detail - though it's a nice touch, I am crap at embroidery and thought it best to use some fancy buttons instead. I've been staring at this set of buttons since last November (they were part of a birthday gift from my boss), trying to decide what sweater pattern I should use them for. They proved a little tough to photograph, but I love the way they're slightly mismatched yet still manage to look like they're related - plus the green and yellow colors contrast perfectly with the purple-y black yarn. I don't think it could be a more perfect match!