Last Sunday the Tour de Fleece drew to a close. After spinning like crazy to finish up the singles I had in progress last Saturday, I spent all day Sunday plying them. I crossed the finish line with some lovely skeins of natural
polwarth
spun on my Ladybug and the
merino/silk
I'd been spinning on my Victoria!
Here's my 2013 Tour de Fleece collage - as you can imagine, my handpun yarn bin is now overflowing!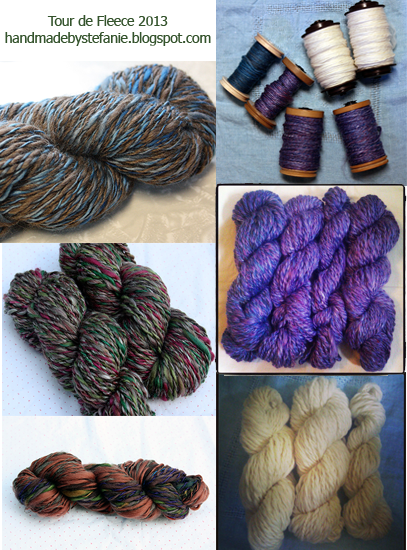 The purple merino/silk top was the project I took on my trip to Kansas City earlier this month, and I ended up spinning in a few of my favorite spots around town such as the Nelson-Atkins Sculpture Garden:
And the Loose Park Rose Garden:
Thanks for joining me back here for one more Spinning Saturday! I'll be taking a break while I figure out what to knit with all of my pretty new yarns. Hopefully I'll see you back here for
Spinzilla
, which will be happening this fall!