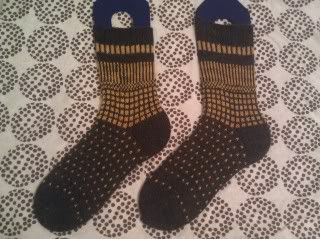 Huron Mountain Socks
In the last few weeks, I've finished two pairs of socks (both holiday gifts) and two of four proposed striped stockings. Unfortunately, I've managed to add to my holiday gift-knitting list exponentially since the completion of these projects. What compels me? Do I just like the challenge, beat-the-clock style? I'm guessing that's the case, although some of it might also be related to being on a shoestring budget. I've noticed there's a huge uptick in gift knitting this season, so I can only conclude that at least I'm not alone in this boat! I've been pretty good about shopping from my stash, so the yarn's already paid for, I just have to find the time to get everything done!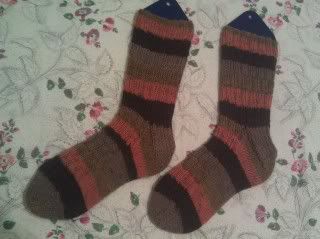 Gentleman's Fancy Sock
Indeed, there is much more holiday knitting to be done. On the bright side of things, I have a bit of a deadline extension this year because we aren't heading down to KC 'til January. The coffee shop where Tyler works was purchased by the hotel where it's located earlier this year; his sudden entrance into the hospitality industry means that we must forgo our annual holiday trip, unfortunately...hence the knitting of the stockings, in my attempt to have a festive house for our Chicago-based holiday. While I'm disappointed that we won't be having our usual holiday traditions, I'm looking forward to both making a few new ones and taking advantage of the extra week or so that I'll have, since we'll be observing christmas with our families in the new year. I'm also psyched because I found some inexpensive but nice stocking holders at Target last week. Woo hoo!
These stockings need a good blocking!
Project Details:
Gentleman's Fancy Sock
by Nancy Bush - Knit in Austermann Step on US #2 DPN's (I cast on 52 sts).
Huron Mountain Socks
by Nancy Bush - Knit inSchoeller+Stahl Fortissima Socka (MC - Grey) and The Wool Dispensary Useful Stimulant BFL Sock (CC - Circus Popcorn) on US #1's and #2's. Hooray, colorwork socks I can get past my heel!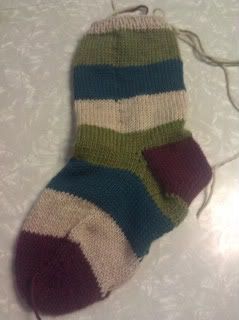 Stocking the first:
Knitting Pure & Simple's Easy Christmas Stocking
knit in Lamb's Pride Worsted in Oatmeal, Reynolds Lopi Lite in #0414 Red, and Pick Up Sticks Small Balls in Grass & Gold on US #8's.
Stocking the Second: Same pattern as above, knit in Lamb's Pride Worsted in Oatmeal and Chianti, Spud & Chloe Sweater in Moonlight, and Berroco Peruvia in Avocado on US #8's.