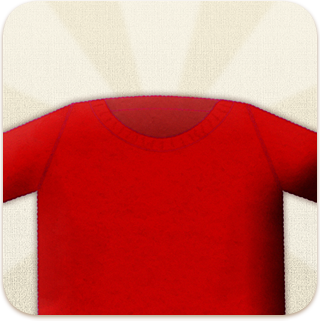 For
Malabrigo March
, I bought a beautiful skein of
Arroyo
in Plomo that was begging to become a sweater of some sort. Of course, I only purchased one skein, so that means I'll be making a cropped cardigan or shrug of some sort. After scouring Ravelry for something that matched what was in my head, I decided that I needed to DIY it.
As luck would have it, I was researching apps for an article that will soon be published, and came across
Raglanify from ShhStudios
, a knitting pattern generator for making top-down sweaters with raglan shaping, as the name would imply. I purchased this app from the Google Play store for $0.99 (there is also an iPhone/iPad version for the same price) and immediately fired it up!
The screenshots provided in the app store are pretty much exactly what you get: after choosing your design elements and gauge information, you simply input your measurements and written instructions are generated. A lot of reviews mention the fact that it doesn't account for bust shaping unless you want to add ease to the back; I found this to be true as well. After playing around with entering various measurements based on some of my favorite sweaters I've made, I still was only able to get a bust size that was 3" less that my actual measurement. It does seem odd that bust circumference wouldn't be one of the measurements you could specify, considering the fact that most published patterns list bust size as the measurement. I'm pretty sure I can make adjustments as I go along since I won't be making a pullover, but less experienced knitters might find themselves at a loss at this point.
However, for the measurements provided, there is a very clear graphic the shows you where to take said measurements, which is always helpful! There are several options you can turn on and off, such as waist shaping and sleeve tapering; there are also 3 neck options provided (boatneck, crewneck and v-neck). It would be really cool if you could also specify pullover or cardigan, but that capability is not currently supported. However, you can refer to (and modify) the pattern at any time on the app itself, or you can email it to yourself to print out, which is a pretty nice touch.
Off to a good start on my Arroyo Cropped Cardi!
The instructions themselves are very easy to follow, so you'll get a well-written pattern that can be built upon and easily customized - I'm adding a cable panel down each sleeve for a little added interest while I knit.
The real test will be when I finish my project, of course - if it fits like a dream, I'll be sure to add an extra star onto my rating! For now, I'd say this app is totally worth the 99 cents I paid for it, and it has a lot of potential if the developer is willing to listen to customer feedback and roll out more options in the future. For now, I'll give it 3.5 of 5 stars!