It's
Black Friday,
or
Buy Nothing Day
if you prefer. While some of you are sacrificing sleep to get a bargain at any number of big box retailers, I will be lazing around the house in my pajamas, drinking tea and admiring my handiwork from yesterday. I apologize if that sounds overly smug, but I am just not into the insanity of Black Friday, no matter how good the deals are.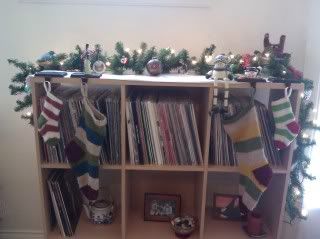 This is the first year we're not heading to Kansas City (our hometown) for the holidays. As previously mentioned, Tyler will be working throughout the holiday season (six day weeks! 11 hour days! at least he's union, so that's some nice time-and-a-half - cha-ching!). To make up for the fact that we won't be upholding any of our usual holiday traditions, I am decorating the house like crazy. Ok, maybe not
that
crazy...but I am definitely stepping up my efforts in the holiday decor department, which in years past has been fairly lackluster (we didn't have a tree til last year - to be fair, it was the last year we had room for one, but still....).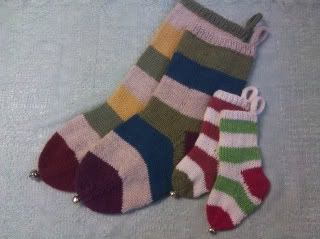 The stockings are hung by the vinyl with care - it's just going to have to suffice in lieu of a fireplace. The bonus, of course, is that the vinyl lives in my office, and I get to look at my lovely garland (bought last year post-xmas for only a few bucks at Target - see, I'm not opposed to getting a good deal!) and stripey stockings for the whole family.
I've already posted about the stockings I made for Tyler and myself
(though they have since had all the ends woven in and jingle bells sewn onto the toes!), but recently completed are Robin and Tilly's stockings, which also have jingle-bell toes. I used the same pattern (
Knitting Pure and Simple's Easy Christmas Stocking
), I just cut all the numbers in half to make a smaller version - it worked pretty well!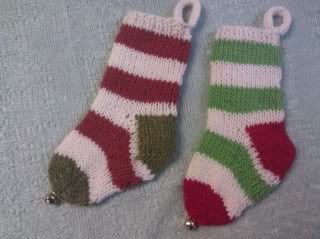 Robin's stocking (right) is knit with: Phildar Lenox 084 in color 10 (natural), Brown Sheep Lamb's Pride Worsted in Limeade, and Pick Up Sticks Small Balls in Red on US #8's.
Tilly's stocking (left) is knit with: Phildar Lenox 084 in color 10 (natural),Zealana Kia Ora Rimu DK in Red Rata Tree, and Berroco Peruvia in Avocado on US #8's.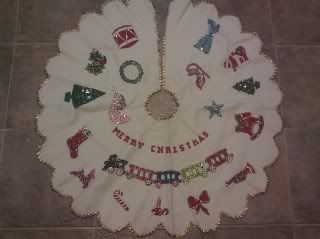 Vintage Kitsch!
I'd like to put everyone's initials on their stocking at some point, but I'm still trying to decide the best/easiest way to accomplish that. I'm not the best at embriodery and I'm not sure that duplicate stitch is the way I want to go, either. I am toying with using some sort of felt letters - might just make a trip to the craft store to see what strikes me as a good idea. In the mean time, you can
click here
to see more photos of the finished stockings, if you're into that sort of thing.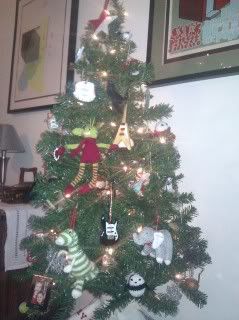 The tree is up and I got to use the amazing vintage tree skirt I inherited from my great-grandparents. It's nothing short of spectacular, right? It's pretty well-preserved, considering how old it is, and I am in love with how tacky it is, but in a good way. People were really into sequins back then, apparently. I don't think many people in our generation have the patience to sew so many sequins onto a tree skirt...ok, maybe that's just me, but either way, I love this new addition to our holiday decorations. It reminds me of the stockings my grandmother made for everyone in the family!
After our Thanksgiving dinner at Longman and Eagle (Tyler's parents took the train up here yesterday and we all had an amazing meal there once Tyler got off of work), we decorated the Christmas tree together. I was pretty psyched to show off my hard work from earlier in the day - not only did I put up the tree, finish the stockings, and decorate the office, I also strung up every working set of lights we own (you'd be surprised at how many we have in the house - Tyler really has a thing for christmas lights - and snowmen, actually, which explains all the snowmen that have made their way into our house). I have a few more plans in the works, time permitting, but I have to say, I'm quite pleased with my efforts.
Hope everyone had a great holiday!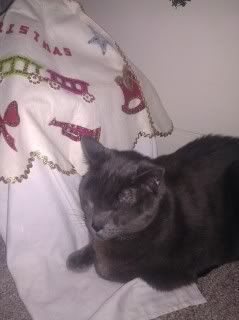 Robin always finds the best place to take a nap.