I've decided that 3 is the ideal number of WIPs for me. I'm not sure how I arrived at this conclusion, but at any rate, this is the number I will try to stick to in hopes of staving off unchecked startitis.
It seems like a long time since I've shared an actual knitting project - in progress or otherwise - so here's the lowdown on what's on the needles right now: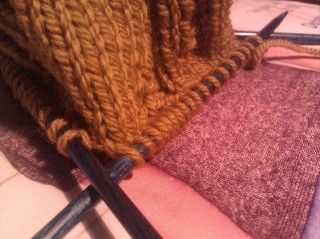 Project the First:
It's a secret! This is a new design I've been thinking about (and quite possibly talking/blogging about, too) for quite some time. I think I knit the prototype a year or two ago, and I am just not getting down to the business of deciphering my notes and putting them into something that resembles a knittable pattern. This project is exciting for two reasons: 1) it's the first project I've cast on using my brand new
Knitter's Pride
needles! 2) I'm finally knitting with the two gorgeous skeins of
Quince & Co. Chicadee
Tyler got me for christmas (in *cough* 2010).
Project the Second: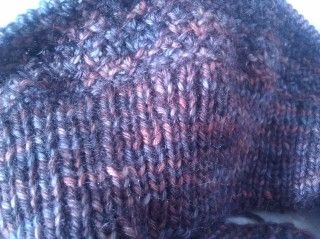 Birthday hat! I couldn't stand it any longer - the beautiful skein of
Skein
Tyler gifted me in November just
has
to be knitted up! I've had my eye on the
Pebbled Beanie
from
Weekend Hats
, and it's knitting up beautifully. Unfortunately, this
isn't
going to be a weekend hat for me. I'm not sure who would be able to knit this pattern in just a few days' time, but I am not that person. I'm bogged down by the tiny needles and the way they kick up my knitter's thumb; unfortunately, the pattern stitch is also a little slow (it's knit inside-out, which involves a lot of purling on top of a knitting-into-each-stitch-twice design feature), although I will say that it's easy to memorize. All in all, this hat - whenever I finish it - will be gorgeous. It's the perfect project for this colorway, and I know that I'll wear it all the time in all its cashmerino-y goodness.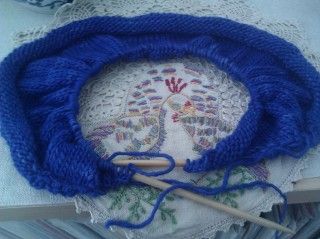 Project the Third:
A sweater for me! I blogged about this in December, and it's finally happening! I cast on for the
Abalone Cardigan
using some
Malabrigo Silky
in Matisse Blue. Man, it's a vibrant colorway! Considering I mostly wear black, brown and gray in my day-to-day life (you know, when I actually get out of my pajamas), I find myself wondering if this is the right choice for a sweater for me. I think it will be pretty, though, and I could probably stand to inject a little color into my wardrobe. Perhaps it will be finished in time for the June TNNA show! The pattern is for a super-tiny-size, so I'll be doing some modifications that I'll try to post for future knitters to use as reference.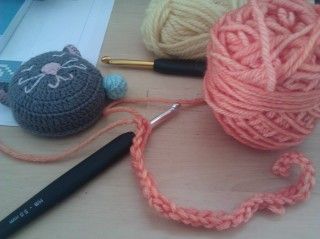 It Doesn't Count if it's Not Knitting?
What you see pictured to the right is a rather pathetic first attempt at a gauge swatch; I am determined to re-learn crochet via
Vicki Howell's Crochet Lab Craftsy Course
. Besides trying once more to master crochet so I can make adorable amigurumi toys, I'm also excited about trying out my brand-new ergonomic Knitter's Pride crochet hooks (sorry for the blatant product placement there, but I love trying anything labeled "ergonomic," apparently). We'll see if it sticks this time!