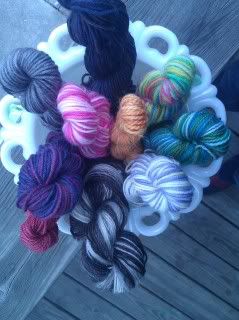 She's a Carnival
Just under the wire - I've added a few new grab bags to the mini skein shop -
She's a Carnival
and
Red Apple Falls
for your hexipuffing pleasure! As always - free shipping to the US, fun surprises in every package, and lovely yarns from a variety of quality sources. Thanks for looking (be sure to bookmark
my mini skein shop
- fresh listings weekly!)
In knitting news, I'm
very
close to finishing my Metheglin Cowl - a few more rounds and I'll be ready to bind off! I think I may have skipped a few rows....I did the bulk of the work on Tuesday night, when I was knitting at the bar....and well, these things happen when I've had many beers. Oops.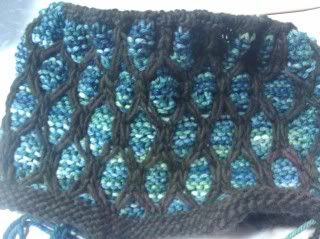 Metheglin
Tyler's sweater is starting to really shape up - the sleeves are just about elbow-length now! The rounds are coming faster, and the closer I get to the end, the more excited I get. I'll be over the moon if this is done by the end of next weekend, but perhaps a more do-able goal is my birthday (then I can cast on a sweater for myself - what a good birthday present).
One last note before I sign off for this week - I was really saddened to hear that
Kitchen Sink Dyeworks is calling it quits
. I wish Mercedes the best in her new endeavors (which, lucky for us, will involve a greater focus on designing!), but I'm really bummed to see another cool hand-dyed yarn company go so quickly on the heels of The Sanguine Gryphon. I highly recommend stocking up - everything's on sale
in her online store
.
And so it goes..