Malabrigo Stockpile presses on! Since my last update, I've cast on for a
Button Bunny
in Rasta and made some progress on my
Travel Shawl
. My non-stockpile sock projects are inching forward, too - last night I started the toe decreases for
colorwork sock
#1!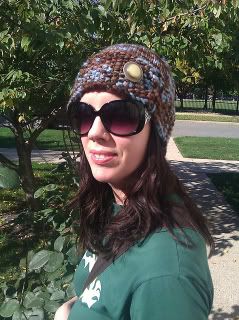 I've also completed one more project from my Stockpile list - the
Robin's Egg Blue
hat! This fun little hat knit up super fast - two days, in fact! I think I spent more time agonizing over which button to use from
my stash
. This is my absolute favorite Malabrigo colorway (charrua) and I can't wait to wear this hat over the winter!
I also want to revisit the recently-completed
Madison Mitts
- this pattern just happens to be by none other than Alysson from
The Sweatshop of Love
, and it truly is total dumb luck that my knitting this pattern and her hosting a Mr. Nubbins giveaway on her blog just happened to occur at the same time. I promise, we didn't plan it this way, but it's great because I actually won her entire
Hello Winter!
e-book last January by entering a giveaway on her blog....we've come full circle! I'm really excited to be able to pay it all forward - I remember how thrilled I was to have won some cool free patterns.
Back then, I was still slogging away at the salon, with only my smartphone and some knitting to keep me company. The thing that sucks the most about working in the beauty industry is that you don't get paid if you don't have clients (and quite often, if you have clients and they don't show up - booo!). You have to be at work, but all you can do is wait and hope....and enter contests, apparently. So even though I had a lackluster day at work wherein I didn't make much money, I at least had something to show for my efforts!
There's still time to enter the Mr. Nubbins giveaway, incidentally. Sidle on over to
The Sweatshop Of Love blog to leave your comment
, then cross your fingers and hope that the Random Number Generator will pick you as our lucky winner!