Yes, the panic is beginning to set in....no matter how early you begin your holiday crafting (and I usually start mine in the summertime!), it simply can't be avoided. It's crunch time, and besides having a ton of gift knitting to finish, one more pattern to put out (ha, ha!), holiday shopping to do, and of course, the work that pays the bills, I find myself coming up short in the "time" department. Plus, there's just so many fun things to do this time of year - the
Christkindlmarket
, about 3,000 craft shows, and holiday parties! I'm only going to one holiday party this year (when you telecommute, there's not such thing as a holiday staff party - unless it's via Skype!), but we are playing two shows that will be vaguely holiday-ish, in that we'll play a few of our Christmas Songs....though they don't really sound Christmassy. But never mind that...at any rate, so I'm filing them under "holiday party."
Chicago peeps, hope to see you at
Martyrs
' next Wednesday, December 13!
Shalloboi
are back to playing as a duo...so bring your ear protection. And your knitting!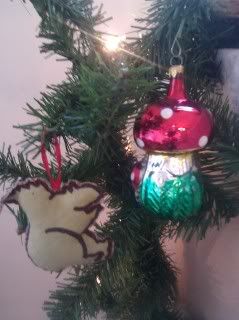 Speaking of the Christkindlmarket and craft fairs (a few of my favorite things), I attended both last weekend when my pal Julie came up to visit. The
Renegade Handmade holiday fair
was PACKED. Holy cow, I have never been in such a mass of humanity! There were lots of great vendors, but it was pretty tough to score some table time with most of them, unfortunately. I was able to make it past the crowds to buy soap from one of my faves,
Briggs & Featherbelle
. Their soaps smell so delicious! I couldn't get anywhere close to
Worker B
, though. Maybe next time!
I also found a few interesting vedors I'd never seen before - I bought this squirrel ornament from
owl+mouse.
Coincidentally enough, they're from my hometown, Kansas City! I was also admiring the adorable handbags from
Suspiro
- if only I'd had a little more wiggle room in my holiday budget this year! It was also great to see some old friends (
Dan Grzeca
, Jay Ryan via the
Flinchy
booth).
Mr. Nubbins wanted to tag along at the Christkindlmarket on Sunday....unfortunately, he's not used to the high alcohol content of the
Glühwein
. Apparently no one told him those boots aren't for walking!